Embroidered Patches
Embroidered patches, including iron on embroidered patches, are stylish and customizable accessories that add a touch of personality to your clothing and accessories. With intricate designs stitched onto a durable fabric, these patches allow you to showcase your individuality, support your favorite team, promote your brand, or commemorate special moments. At Embdigit, our skilled artisans use high-quality materials and advanced techniques to create visually appealing and long-lasting patches. Simply share your design, logo, or artwork with us, and we'll work closely with you to bring your vision to life. Explore our collection and personalize your style with our exceptional embroidered patches.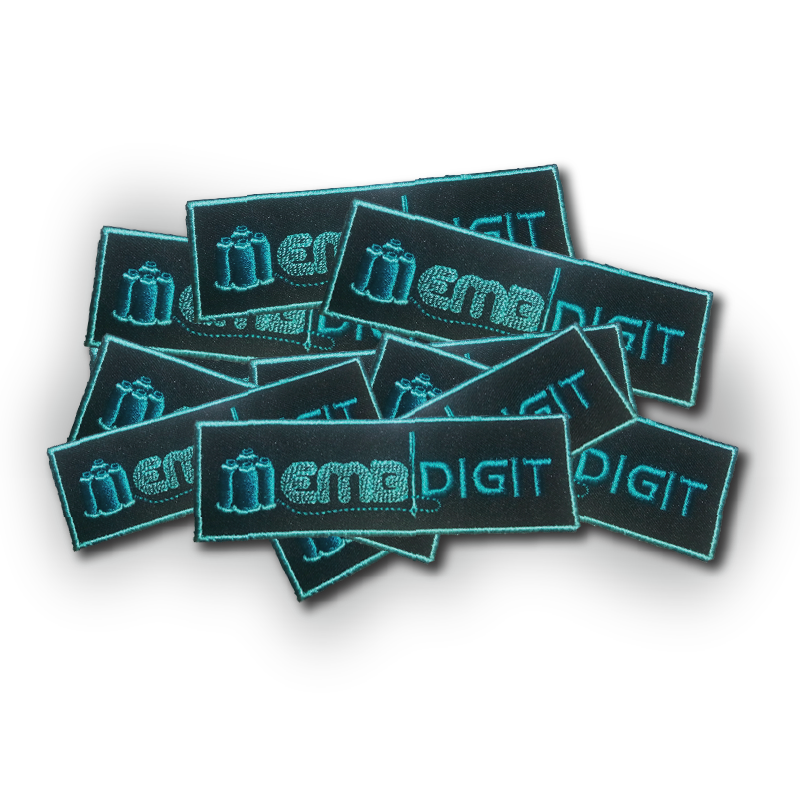 Benefits Of Embroidered Patches
Embroidered patches offer numerous benefits that make them a popular choice for personal and promotional purposes.
Personalization:

Express your style and uniqueness with our custom embroidered patches that let you make a statement.

Branding and Promotion:

Use our embroidered patches as powerful branding tools for your business or organization. Showcase your slogan, letter, message or embroidered logo patches to increase brand recognition and create a strong identity.

Durability:

Our carefully crafted patches are made with high-quality materials and expert stitching, ensuring their durability and ability to withstand regular use. They maintain their vibrant colors and intricate designs over time.

Versatility:

Easily apply our patches to various fabrics and materials, such as clothing, bags, and hats. Enhance your apparel and accessories effortlessly, creating a strong and personalized look.

Easy Application:

Our embroidered patches come with user-friendly application methods, including sewing, ironing, or using convenient fasteners. You can easily attach patches yourself with instructions.

Discover the power of our embroidered patches for personalized style, effective branding, long-lasting durability, versatile use, and hassle-free application.
WHY CHOOSE EMBDIGIT FOR ORDERING PATCHES ONLINE?
High-quality materials:

We use only the finest materials, including high- quality threads, backing, and border options, to ensure that your chenille patches including velcro patches look great and last for years to come.

Expert design services:

Our team of experienced designers can work with you to create a custom patch design that perfectly captures your vision and meets your needs.

Fast turnaround times:

We understand that time is of the essence, which is why we offer fast turnaround times on all of our custom patches. We work with you to ensure that your patches are delivered on time and to your exact specifications. 24/7 Available 365 days

Affordable pricing:

We believe that everyone should have access to high-quality custom patches, which is why we offer competitive pricing on all of our products.

Pay Securely:

Pay after reviewing proof with advance secured merchant via Credit Card/Paypal.

No Minimum order quanity

Super fast turnaround, on-time delivery
Package 1
2.5 Width
2.5 Height
100 Quantity
twill fabric
iron-on backing
Maximum 7 thread colors
Package 2
2 Width
2 Height
100 Quantity
twill fabric
iron-on backing
Maximum 7 thread colors
Package 3
3 Width
3 Height
100 Quantity
twill fabric
iron-on backing
Maximum 7 thread colors
Package 4
4 Width
4 Height
100 Quantity
twill fabric
iron-on backing
Maximum 7 thread colors
How Our Embroidered Patches Service Works?
We've simplified the process of ordering custom embroidered patches. Here's how it works:
Design Consultation:

Share your ideas, logos, or artwork with our pattern digitizing experts who ensures that your custom patch design is accurately translated from concept to reality.

Patch Specifications:

Choose the size, shape, colors, and backing options for your patches. Our team will guide you through the selection process, ensuring that your patches match your requirements.

Patch Production:

Once the design and specifications are finalized, our craftman will bring your patches to life using high-quality materials and precision embroidery techniques.

Quality Control:

Each patch undergoes rigorous quality control checks to ensure that it meets our stringent standards. We take pride in delivering flawless patches to our customers.

Delivery:

Your finished patches will be carefully packaged and delivered to your doorstep. We offer reliable shipping options to ensure that your patches reach you on time.
Order Your Custom Embroidered Patches Today!
Are you ready to add a touch of style, identity, or promotion to your clothing or accessories? Contact Embdigit today to order your custom embroidered patches. Let us transform your vision into stunning patches that make a statement. Order embroidered patches now!