Custom Woven Patches
Welcome to Embdigit, where woven patches let you express your style and personality. Our carefully crafted patches are more than just accessories. They are intricate works of art that showcase your unique identity. With vibrant colors, fine details, and a variety of customization options, our woven label patches create a memorable impact. Whether you're an individual, a business, or an organization, our patches are designed to elevate your style and leave a memorable impact. Join us in exploring the beauty and versatility of woven patches as we assist you in creating patches that truly reflect your personal flair.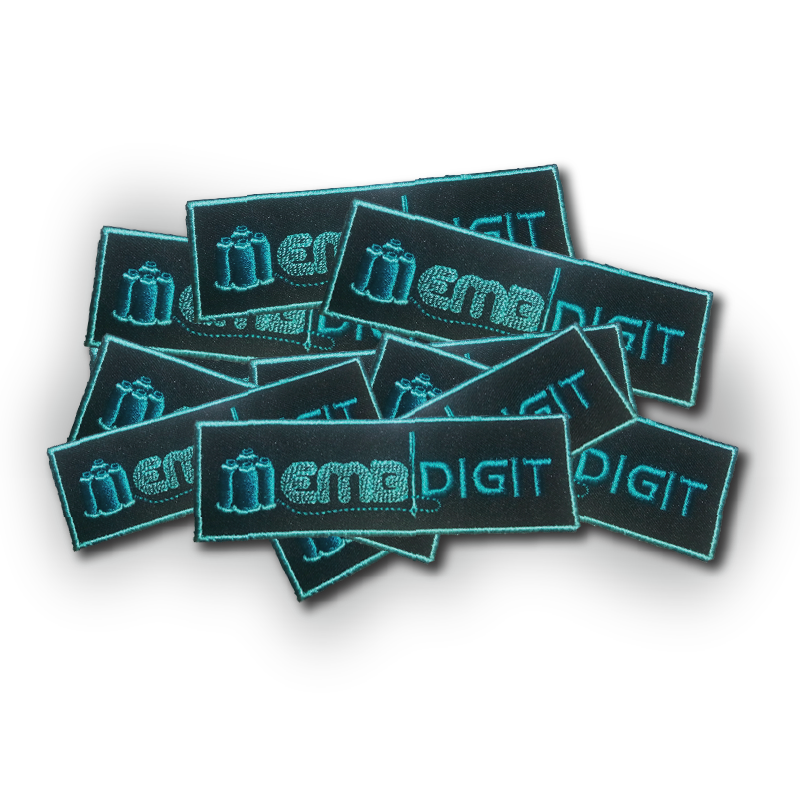 Benefits of Woven Patches
Durable:

Our woven patches are made with strong materials, ensuring long-lasting quality for uniforms, outdoor gear, and more.

Intricate Detail:

Enjoy sharp lines and fine text on our woven patches with our advanced weaving techniques.

Vibrant Colors:

Your designs will stand out with eye-catching, long-lasting colors on our woven patches.

Customizable:

Express your unique style with a wide variety of shapes, sizes, colors, and finishes for your woven patches.

Professional Branding:

Showcase your woven logo patch, tagline, or message in a professional and memorable way with our woven patches.

Easy to Apply:

Our woven patches can be easily sewn or attached to garments, bags, and hats, providing hassle-free application.

Affordable and Flexible:

We offer competitive prices for small and large orders, ensuring quality letter digitizing for accurate representation of your design.
Embroidered vs. Woven Patches: What's the Difference?
Embroidered patches and woven patches are two popular options for adding custom designs to clothing and accessories. While they serve similar purposes, there are key differences between them. Logo digitizing is an important step in creating both types of patches
Embroidered Patches: Embroidered patches are created by stitching threads onto a fabric backing. They have a textured, raised appearance and offer a traditional and classic look. Embroidered patches are ideal for designs with thicker lines, bold colors, and a 3D effect. They are commonly used for traditional logos, crests, and lettering.
Woven Patches: Woven patches, including woven patches for hats on the other hand, are made by weaving threads together to create a design. They have a flatter, smoother texture and allow for intricate details, fine lines, and small text. Woven patches offer a sleek and modern look, perfect for designs that require high levels of detail, such as complex artwork, small text, or gradients.
Both embroidered and woven patches have their unique visual appeal and can be customized to suit your specific needs and preferences. Consider the style and level of detail you desire when choosing between embroidered and woven patches, and don't forget the importance of logo digitizing and using a woven patch machine to ensure accurate representation of your design. Whether you need woven patches for hats or any other application, our team is equipped with the latest technology and expertise to deliver high-quality results.
Why choose Embdigit for ordering Patches online ?
High-quality materials:

We use only the finest materials, including high- quality threads, backing, and border options, to ensure that your custom woven patches look great and last for years to come.

Expert design services:

Our team of experienced designers can work with you to create a custom patch design that perfectly captures your vision and meets your needs.

Fast turnaround times:

We understand that time is of the essence, which is why we offer fast turnaround times on all of our custom patches. We work with you to ensure that your patches are delivered on time and to your exact specifications. 24/7 Available 365 days

Affordable pricing:

We believe that everyone should have access to high-quality custom patches, which is why we offer competitive pricing on all of our products.

Pay Securely:

Pay after reviewing proof with advance secured merchant via Credit Card/Paypal.

No Minimum order quanity

Super fast turnaround, on-time delivery
Package 1
2.5 Width
2.5 Height
100 Quantity
twill fabric
iron-on backing
Maximum 7 thread colors
Package 2
2 Width
2 Height
100 Quantity
twill fabric
iron-on backing
Maximum 7 thread colors
Package 3
3 Width
3 Height
100 Quantity
twill fabric
iron-on backing
Maximum 7 thread colors
Package 4
4 Width
4 Height
100 Quantity
twill fabric
iron-on backing
Maximum 7 thread colors
Request a Free Quote For Your Custom Woven Patches
If you have any questions about your custom woven patches, don't hesitate to contact us today. Our experts are standing by to provide recommendations. The order process at Embdigit is very easy. Start by requesting a free quote on our website and let us know what type of patch you want and how many you need. You can also share your artwork with us. We'll follow up with a written confirmation through email or message and will get started on making your free sample. Unlike other patch companies we never simply provide a graphic rendering. Instead, we show you exactly what your custom woven patches will look like. Once the sample is approved we'll get started creating your order and will ship it to your doorstep.
When you choose Embdigit for your custom woven patches you'll be able to choose from a variety of backing types including iron on, Hook & Loop, and many more. Pricing is available upon request and your design can include up to 8 thread colors at no additional cost. Request a free quote today to get started!